JEFF T.
Project Manager / Dry Stone Mason
Jeff is a Project Manager, dry stone mason, our irrigation installer and about 20 other job titles. He enjoys building timeless landscapes for clients in the PNWest.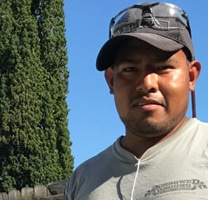 RAMIRO V.
Dry Stone Mason
Ramiro loves masonry and his work is very proficient. He brings a strong work ethic and positive attitude that keeps the crew focused.